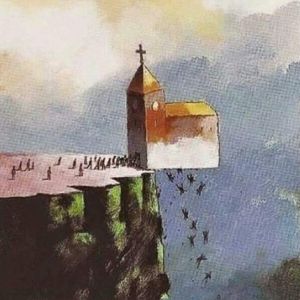 You may have been born in church, baptized in church, served in church, could have been married in church, died in church and still end up in hell, because you were only ever in the church and not in Christ...
Last week this was sent to me. It reminds me of when I heard from someone that just as being born in the church doesn't make you a Christian, so too being born in a chicken pen doesn't make you a chook! I thought, at the time, it was very funny, yet true. I suppose it still is, yet true.
And this is what the adjacent picture is all about. No doubt, if one is a Christian, one will want to be in church each week, but that certainly doesn't make you a Christian.
In saying this, I guess there would be people in church today who are at the moment, in this category. And that is ok, but please don't stay in that position. In a previous church I ran a course (today, we run a similar course: Truth Explored) that looked at how one can be in Christ – I should say the desperate need for one to be in Christ. And I was pleasantly surprised at how many people not only did that course, but also honestly conveyed to me that they had never really made a decision to follow Christ, but always went to church except when sick or except when a teenager.
In the end, it is all about who one is placing their trust in? Is one placing their trust in Jesus, or in the fact that they were brought up in the church, or reckon they should be ok as they have never done anything too bad?
I was amazed at how the amazing grace of God spoke to so many people back then and eternally changed their lives. Perhaps he is speaking to you, through this. If so please talk to us; we'd love to point you to how you can be in Christ, rather than just in Church.
Trev xo